Internet users access your website via your domain name. A domain name is a unique text name corresponding to the numeric IP address or location on the Internet (the address where your website is held on a server).
When you buy domain names they also need to be managed. Many people say they have bought a domain name for just a few pounds but have no idea where the domain is currently held or which server it's pointing at (if any).
Domain management costs are charged at £1.34 /month. This includes transfers, re-pointing your DNS, (tag changes) and domain alerts to ensure you do not lose your name by missing renewals. It also includes the cost of raising the renewal invoice and provides a helpline should any problems occur.
Domain names are usually purchased every 2 years.
.co.uk .me.uk .org.uk
Are charged at £6.99/annum with a £1.38/month management fee
i.e. £23.50/annum (£47 for 2 years) +VAT
.com .net .org .biz .info .name .eu .mobi
Are charged at £11.99/annum with a £1.38/month management fee
i.e. £28.50/annum (£57 for 2 years) +VAT
.tv .uk.com .eu.com .gb.com .gb.net .uk.net .cc .me
Are charged at £25.00/annum with a £1.44/month management fee
i.e. £42.16/annum (£84.00 for 2 years) +VAT
You may already be confused about the benefits of choosing a short domain name as opposed to a long domain name? A long domain name stuffed with key search words is more search engine friendly and can describe your products or services. However, a short domain name is far easier to remember and type into a browser.
You can use up to 67 characters, so you don't have to settle for short, obscure, or abbreviated name. However, you may not want to use anything close to 67 characters because it leaves too much room for error - unless it's a memorable phrase! A long domain name could also make it less memorable for people to share your website through word of mouth.
Some of our clients have chosen both options! Choosing a long 'key worded' domain name as the primary domain (for Google) and 2nd far shorter name for branding.
We simply redirect the secondary name to point at the primary domain when its typed into a browser. E.g. type 'zerreau.com' into a browser and you will see the website www.dryshampoothatswet.co.uk.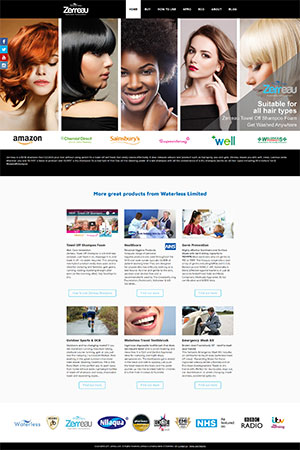 When the domain names you want have already gone you can often add a hyphen or two and find its available. E.g. diypi.com was already taken but we managed to secure diy-pi.com. There are advantages and disadvantages to using hyphens. Your keywords are clearly defined for search engines, however the downside is that hyphen can get forgotten and your marketing efforts can lead people to visit someone else's site, and the chances are the non-hyphenated site is a rival who may have trade marked the name. So check carefully before you create your business or brand. Hyphens can also stop new words being formed from innocent registrations...
Domains Name Extensions
When choosing a domain name, you also have to decide which domain name extension to use. While almost everyone wants to be a .co.uk or a .com, those options may not be available. The good news is that there is nothing necessarily wrong with choosing other domain names that end in .net, .org .biz or a myriad of new extension like .digital .london etc.
Generally speaking Google used to show a .co.uk to a UK audience ahead of a .com but its no longer true, however most people expect the domain name to end in one of these two TLD's (top level domains). If your audience in mainly UK based the .co.uk is still preferable; if you are a global business then choose the .com. For most people we recommend you buy both .co.uk and .com. Also buying the .com ensures rivals can't easily set up and benefit from your marketing, it also helps with those who cannot remember which it was.
Hyphenation would have helped these domains!
ExpertsExchange.com = ExpertSexChange.com
WhoRepresents.com = WhorePresents.com
TherapistFinder.com = TheRapistFinder.com
PenIsland.net = PenisLand.net
ChooseSpain.com = Chooses Pain.com
GoTahoe.com = GotAHoe.com
ThePenIsMightier.com –> ThePenisMightier.com
PowergenItalia.com = PowerGenitalia.com
MoleStationNursery.com = MolestationNursery.com
KeywordsExtractor.com = KeywordSexTractor.com
BigAlsOnline.com = BiGalsOnline.com
PotsOfArt.com = PotsoFart.com
AlterScrap.com = AltersCrap.com
ViaGrafix.com = ViagraFix.com
NowHere.com = NoWhere.com
MoleStationNursery.com = MolestationNursery.com
Mp3sHits.com = Mp3Shits.com
TeachersTalk.com = TeacherStalk.com
ihaVegas.com = IHaveGas.com
OddsExtractor.com = OddSexTractor.com
WebOne.com = WeBone.com
SpeedofArt.com = SpeedoFart.com