Who is Meantime Media?
They offer a complete service from the idea through to delivery. It could be a flash video file for your webmaster or printed and packaged DVDs. It includes all aspects of the production and covers :
Concept and idea, script, storyboard, location, finding, recce, planning, shoot, graphics, rostrum, music, presenter/voice-over, music, edit, rights clearance, replication, package design, delivery and distribution.
They've worked with small companies that you may never have heard of through to large organisations such as The John Lewis Partnership, Whitbread, Virgin and Pedigree Petfoods.
New Site: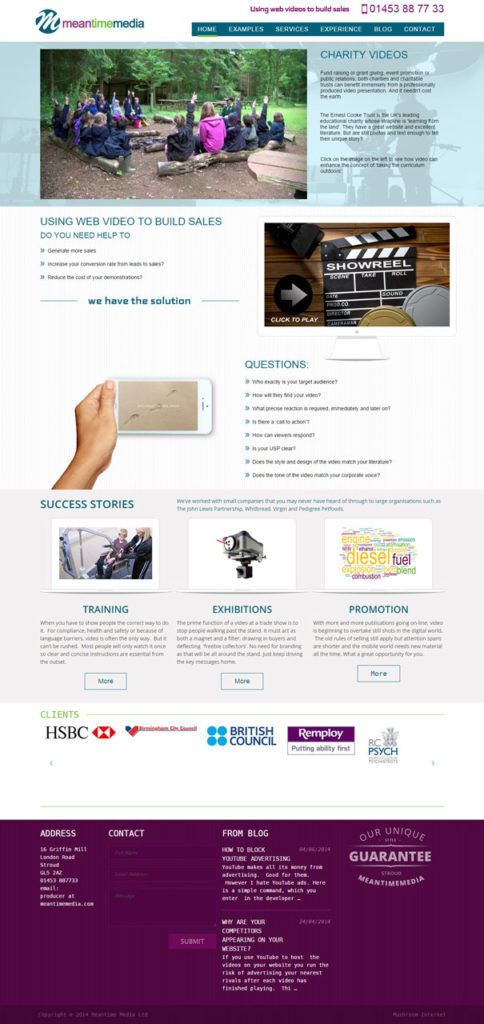 What we did:
How we did it:
Mike came to Mushroom on the back of his affiliation with our sister company, Waterless Ltd. Mike has produced a number of quality advertisements and videos for us and wanted to re-brand his website to bring it up-to-date. We produced a number of designs for him to look at and rested on what you see today. We built the site and now host Mike's emails and website for him as well as looking after the maintenance and updates.
Marketing and SEO:
Mushroom Internet have been running successful digital marketing campaigns since the relaunch of the current Meantime Media Website. We have sole charge of their social media accounts and have grown the audience extensively. The site is currently ranking #1 on Google UK for the phrase 'Video Production Stroud' .which is a great position in this competitive sector.
We chose Mushroom Internet mainly for their experience in generating leads from websites. Their advice and expertise has had a huge effect and I would highly recommend them to anyone who needs to grow their business.
Mike Kilcooley