As a Cotswolds based digital marketing agency Mushroom Internet has a team skilled in the production of traditional Print Design and Branding for magazine adverts, brochures, leaflets, flyers, mail outs, stationery, etc and digital media like Facebook Ads, website banners and so on.
Brand development, brand manuals, there is a lot to discuss around branding. Its not just an attractive design for your website and brochure. It has to convey the right image for your business, it has to set the tone and communicate a message. Branding usually allows you to own an element which is used through your marketing materials and communications, such as a shape, colour, texture, saying etc. Think of the Nike tick or the yellow arches of McDonalds or Tesco's 'every little helps' etc.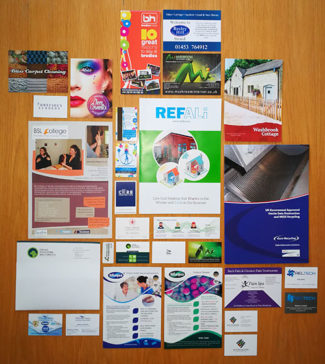 Mushroom Internet can also design promotional materials such as T-shirt Designs, mugs, mouse mats, Signs and even vehicle livery!
If you are not sure that MIL could produce an item – Give us a call and ask.
Oh, and by the way Mushroom Internet do it all in the UK, using British Suppliers and manufacturers, local Gloucestershire printers and vehicle livery companies – not multi national corporate monoliths.
The company is based in Gloucestershire and believes in using local businesses wherever possible to produce Great British Designs. We have produced some fantastic branding material for clients across Gloucestershire, Bath, Somerset, Herefordshire etc, and more locally Stroud, Nailsworth, Painswick, Stonehouse, Swindon etc.