Is quoted or bracketed content ranked differently by Google?
Googles interpretation of characters that are naturally added to content has long been a topic of controversy amongst the digital marketing World. With many claiming Google treats this content differently and others firmly in the 'it makes no difference' camp we decided to explore the lasting thoughts on this ever changing topic. Of course theres no better place to search for answers in the digital marketing planet than Twitter;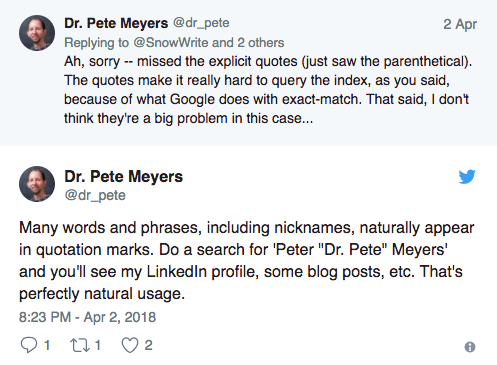 From these tweets we can gain an insight into not only how the top dogs at MOZ and Google choose to use emojis to communicate but also the fact that we appear to have a conclusive answer in the form of a thumbs up!
In short this twitter exchange appears to show that the use of brackets isn't treated differently by Google unless it changes he meaning of a sentence or words.